Hot Chocolate Bombs

Photo: B Cocoa Artisan Chocolate
Unless you've been living under a rock this fall, you have probably heard about the latest trend in hot chocolate or hot cocoa, the hot chocolate bomb! They are simply a molded chocolate shape (typically round), that can be filled with pretty much anything your heart desires. You melt a hot chocolate bomb into a mug of warm milk, and there you go! A delicious, rich and cozy mug of hot chocolate for you to enjoy.
Here are some of the most creative and delicious hot chocolate bombs that we have found this holiday season. We love seeing how everyone puts their own twist on the idea! If you are thinking of ordering hot chocolate bombs for holiday gift giving, check with your local chocolatier or chocolate maker. Support small businesses, and be sure that your order is in early enough so that you won't be disappointed!
Kate Weiser Chocolate
We absolutely couldn't write a list of hot chocolate bombs without mentioning the guy who made hot chocolate bombs cool – Carl the Snowman. He is the brainchild of Kate Weiser, and he first came on the scene back in 2014. Carl is a chocolate snowman with a belly full of drinking chocolate mix and a head full of marshmallows that you melt in a pot of milk! If you want to learn more about how Carl was created and the challenges of shipping him, read our blog post here. As Carl evolved, so did Kate's plans for packaging and shipping him, especially after he became one of Oprah's Favorite Things! Read our second blog post about Carl here.

Photo: Kate Weiser's Carl the Snowman
Niblette
Based in London, England Niblette is an award-winning chocolate and patisserie business founded by Shaoni Nandy. This year, Shaoni is offering beautiful Hot Chocolate Bombes in mouth-watering flavours such as Heavenly Hazelnut, Fragrant Rose and Chai Spice! Each bombe is make with your choice of a milk or dark chocolate shell, ground chocolate and marshmallows. There are also vegetarian and vegan options available!

Photo: Rose Hot Chocolate Bomb from Niblette Chocolate
The Chocolate Lab
The Chocolate Lab in Calgary, Alberta is making snowballs! Each one is filled with their signature blend of house-made dark origin chocolate, and mini marshmallow, all nestled inside a white chocolate shell. The combination of white and dark chocolate is sure to create a rich, decadent drink.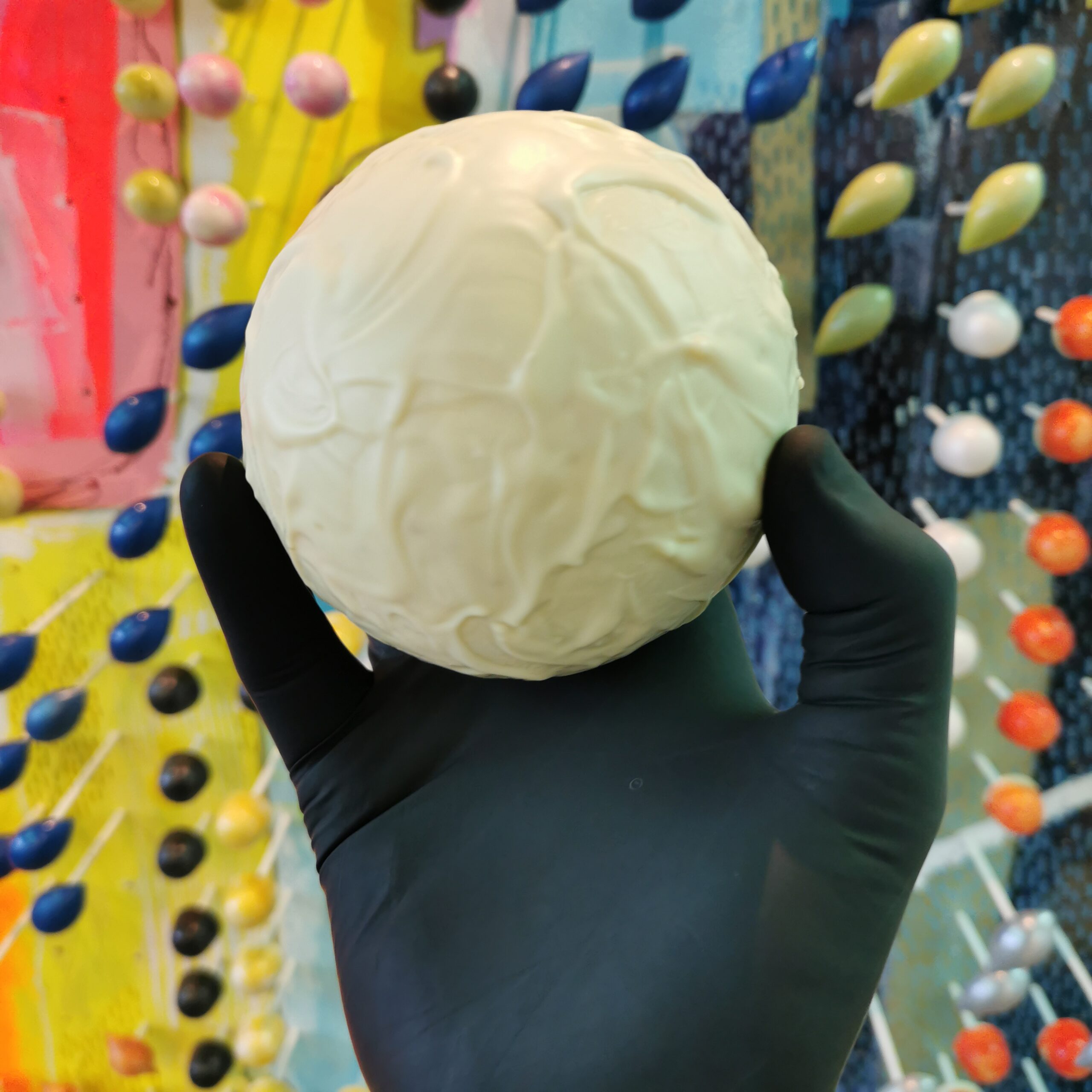 Photo: Snowball from The Chocolate Lab
B Cocoa Artisan Chocolate
Brooke and her team are selling hot chocolate bombs as fast as they can make them! They are beautifully designed and perfect for gift giving. Flavours include Traditional Hot Chocolate and Mexican Chili, both with homemade vanilla bean marshmallows. There is also a Caramel Hot Chocolate with caramel pieces and caramelized white chocolate that sounds decadent and delicious!

Photo: B Cocoa Artisan Chocolate
Cacao and Cardamom
Annie of Cacao and Cardamom has created beautifully designed ornaments that contain all kinds of hot chocolate deliciousness inside! She hasn't shared the flavours yet, as there was just a sneak peek on her Instagram. But we're sure more details will be revealed soon.
Veruca Chocolates
We love the glittery design of Veruca's chocolate ornaments – they are almost too pretty to melt…almost! Inside is a mixture of dark and milk chocolate that makes 1 or 2 cups, depending on how thick you like your hot chocolate.

Photo: Hot Chocolate Ornaments from Veruca Chocolates
Melt Chocolate Company
Winnipeg's Melt Chocolate Company founded by former Royal Winnipeg Ballet dancer Amanda Green. These may not be spheres like most hot chocolate bombs this year, they create a delicious mug of drinking chocolate just the same. And how cute is that snowman design? They are available in Classic, Candy Cane and Cinnamon Chili Flavours!

Photo: Hot Chocolate Stir Sticks from Melt Chocolate Company
---
Want to learn more about making delicious chocolates and confections? Check out our Professional Chocolatier Program!
↑
Get reminders about upcoming classes! To receive program updates and news, click the link below.
Understood
This site uses cookies to help maintain session persistence and language preferences. Services such as Google also place cookies here to help us improve your experience by providing insights into how the site is being used. Visit our
Privacy Policy
page to learn more about the cookies found on this site.
Add a Home Screen shortcut to launch like a native app?