Easter is early this year, did it creep up on you? You may still be hunting for fine Easter chocolate to give to your friends and family.  Fortunately, your favorite chocolatier has all of your Easter chocolate needs covered! Easter is a time for chocolatiers to showcase their talents and creativity with products that are beautiful to the eye, and delight the taste buds! We always enjoy seeing what new things chocolatiers develop for their Easter chocolate collections and the ways that they push the boundaries of chocolate artistry.  Here are just a few examples of some of the fabulous creations we noticed as we hippity hopped around the web.  This is by no means an exhaustive list, but we didn't want to leave you reading until next Easter!
Chocolate eggs
Toronto-based chocolatier and pastry chef David H. Chow is amazingly talented with his eye for design and creativity. A quick look through his website or Instagram account and that comes through loud and clear. The "eggs on eggs" made with Valrhona chocolate that David created for Easter shows his ability to put a fun twist on a classic Easter egg and create a piece that is beautifully made, all at the same time.
Fran's Chocolates in Seattle is famously known for creating high quality fine chocolate ever since Fran Bigelow opened her first shop in 1982. This beautiful collection of Easter eggs features four peanut butter eggs in dark chocolate, two coconut eggs in dark chocolate, two hazelnut crunch eggs in milk chocolate,  two caramel eggs in milk chocolate, and two truffle eggs in dark chocolate.
Located on beautiful Bowen Island, British Columbia, Cocoa West Chocolatier is owned by Joanne Mogridge and Carlos Vela-Martinez. Known for creating beautiful and delicious chocolates with certified organic and locally sourced ingredients wherever possible, their Easter chocolate collection is no exception! These beautiful Easter eggs are made with organic milk and dark chocolate and then hand-painted with edible cocoa butter color.
Susanna Yoon from Stick with Me Sweets was recently named one of the Top Ten Chocolatiers in North America by Dessert Professional Magazine, and it's easy to see why! Her chocolates are beautiful and her flavor combinations are inventive. Here she has made a passion fruit marshmallow bunny and put it inside a beautiful egg made with Valrhona chocolate.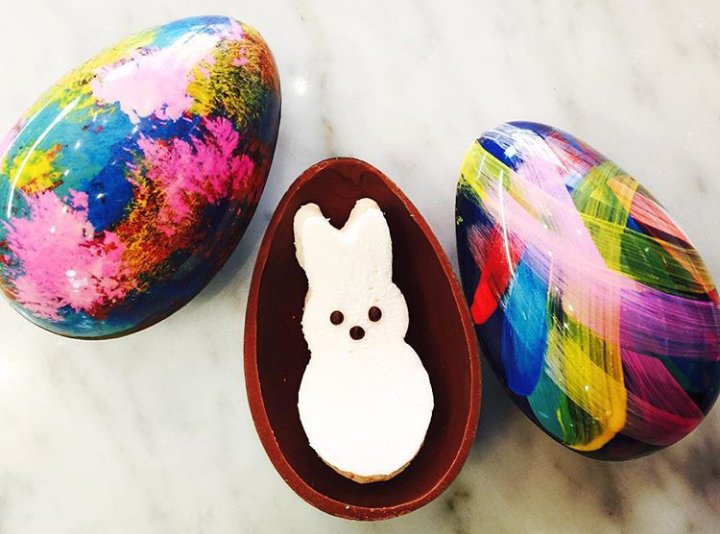 Bunnies, chicks & other chocolate creatures
Vancouver's Thomas Haas is famous for his fabulous chocolates and desserts. He also creates larger chocolate figures for each holiday season. We loved this chocolate bunny, how could you not take him home with you?
Each holiday season we love to see what Giorgio Demarini of Roselen Chocolatier has created, and this Easter was no exception. Giorgio was trained as a graphic designer and it comes through in his chocolates – his designs are always full of intricate details and his chocolates are beautifully made. We loved these chocolate bunnies – dark milk salted ganache with a pistachio inside, complete with this pretty flower detail.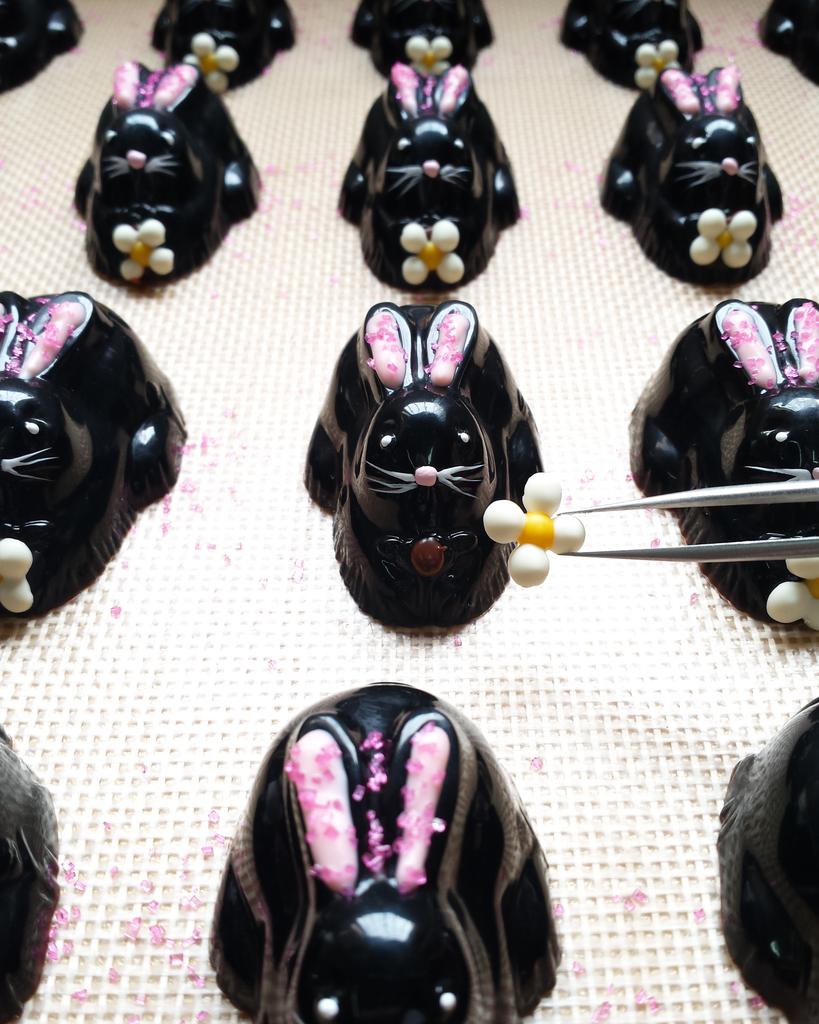 It wouldn't Easter without some baby chicks! These ones were made by award-winning Vancouver chocolatier Glenn Knowles of Gem Chocolates. All of Glenn's chocolates are handmade with natural ingredients. These "newly-hatched" little chicks would be the perfect fine chocolate treat for anyone on your list!
Easter Truffle & Bonbon Collections
Easter treats aren't just for kids! Many chocolatiers create beautiful bonbon collections that make a fabulous hostess gift, or the perfect indulgence just for you!
Recchiuti Confections
Famous for their burnt caramel, Recchiuti Confections has created the perfect Easter "package" for their signature flavor! A thin milk chocolate shell coats creamy burnt caramel in these delicious and beautiful eggs.
Jennifer Smith & her daughter Sophia Smith-Grunder started Ex Voto Chocolates and Confections in 2015, and since then they have been busy creating beautiful chocolates. A quick look at their Instagram page will give you a sense of their talents. Their Easter collection of bunnies and hand-painted eggs is no exception, and with flavors such as peanut brittle, coconut almond, and salted caramel dark chocolate ganache with pecans they are sure to delight your taste buds too!
Spring Collections
Some chocolatiers choose to create a spring collection rather than one focused only on Easter. Here are a few beautiful examples that we found.
What says "spring" better than a beautiful bouquet? Black Dinah Chocolatiers has created a 17-piece Bon Bon Bouquet with flavors such as Jasmine Green Tea and Lavender Sea Salt Caramel.
We often associate robin's eggs with the coming of spring, and Jacek Chocolate Couture has turned this springtime fixture into a beautiful chocolate collection. The 12 piece Robin Egg box is full of  colourful bonbons filled with caramel ganache and a milk chocolate shell.
Need more Easter inspiration? Check out our Easter board on Pinterest!
Want more information about choosing chocolate for Easter? This recent article in the Globe & Mail will help: How to tell if your favourite Easter treats are 'real chocolate'
Happy Easter from all of us at Ecole Chocolat!